Top Toasters
People demand a consistent experience from their toasters. It shouldn't be complicated. The Viewpoints Reviewers' Choice awards recognize the top toasters on the market, based solely on the product reviews we collect and publish daily on Viewpoints. Our reviews are written by ordinary consumers, not professional testers. These toasters all meet Viewpoints Reviewers' Choice award eligibility and represent the top 4 percent of 116+ toasters reviewed on Viewpoints. Start your day with a proven winner.
Viewpoints recommends these two toasters as top choices for your money:
Best Value: Toasters – 2-Slice
Black & Decker 2-Slice Toaster T2707 ($35)
Rated 85 | 29+ reviews
People tend to be picky about their toasters, but reviewers like this one. The Black & Decker 2-Slice Toaster T2707 gets extra praise for style, normally found in more expensive brands. With 6 settings and an easy slide-out crumb tray, you get performance and style at a great price. Reviewers like the modern design, but love it for its reliability.
"It's designed so well, I don't even give it a second thought! … I've never had a problem with this toaster toasting anything unevenly." —LasVegasKitty, Reviewer since 2013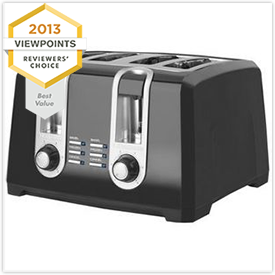 Best Value: Toasters – 4-Slice
Black & Decker 4-Slice Toaster T4569B ($40)
Rated 87 | 17+ reviews
This 4-Slice Black & Decker T4569B is an economical choice for big households. Toasting frozen bread and bagels like a charm, reviewers rave about its reliability: "I don't think I've ever been disappointed with Black & Decker." You could spend more on a toaster, but why? One reviewer calls it 'da bomb.
"…the perfect combination a toaster could have. It is simple enough that it does not have 1000 buttons that you don't even know what half of them do, but it is has every feature you could imagine needing."–LMRunner18, Travelers Rest, SC, Reviewer since 2010
Looking for other good deals? You'll like this page.
More Top Toasters
Two toasters also meet the tough criteria for a Reviewers' Choice award and are highly recommended:
Cuisinart Metal Classic 4-Slice Toaster CPT-180 ($70)
This classic toaster with polished chrome and black accents will not only look beautiful in your kitchen, its custom controls for toasting up to four slices of bread or bagels will ensure you get perfect toast each time. This "beautiful" toasting device is Viewpoints-rated at 87 with 51+ reviews.
Cuisinart Metal Classic 2-Slice Toaster CPT-160 ($50)
This toaster comes with a sex-setting browning dial along with reheat, defrost and bagel options and wide toasting slots, accommodating a variety of breads and bagels.  This toaster is said to make "crispy and delicious toast" and is Viewpoints-rated at 86 with 18+ reviews.
Editor's Note: Viewpoints Reviewers' Choice awards were given in October and November, 2013, and current product ratings may differ.