Top Food Processors
Food processors take the routine work of the kitchen and – voila! – break down foods into just-the-right-sized bits for cooking and baking. Could you function without a food processor? Sure. But experienced cooks wouldn't dream of giving theirs up. The Viewpoints Reviewers' Choice awards recognize the top food processors on the market, based solely on the product reviews we collect and publish daily on Viewpoints. Our reviews are written by ordinary consumers, not professional testers. These food processors all meet the Viewpoints Reviewers' Choice award eligibility requirements and represent the top 12 percent of 131+ food processors reviewed on Viewpoints. Buy one for yourself – and give your knives and hands a rest.
Viewpoints recommends these three food processors as top choices:
Best Overall: Food Processor – Traditional
Cuisinart Custom 14-Cup Food Processor DFP-14 ($179)
Rated 94 | 60+ reviews
This large capacity 14-cup food processor makes your meal preparation a breeze. Reviewers rave that the stainless steel, BPA-free device is a "kitchen timesaver" and a "dream come true" appliance that makes cooking fast, easy and fun.
"I use this daily. I make soups, baby food, homemade chips, guacamole, hummus– just tons of stuff I used to buy instead of make. I also use it to shred carrots and slice cucumbers for salads, shred blocks of cheese, etc. It makes everything simple and far less time consuming."–mommyof2inmi, Reviewer since 2009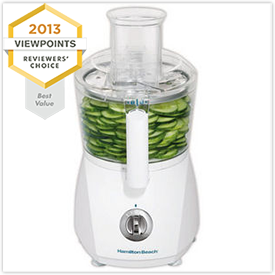 Best Value: Food Processor – Traditional
Hamilton Beach ChefPrep 10-Cup 70610 ($50)
Rated 89 | 21+ reviews
This Hamilton Beach blows away pricier competition. Reviewers call it "a favorite tool in the kitchen." Another writes that  it's "large enough to process big quantities … without having to stop to empty the container." Users swear its power matches a Cuisinart.
"One of my favorite things to do is to make pie crust in it. It turns a 15-minute job into something that can be accomplished in just about a minute …  I highly recommend." —PZarate, Reviewer since 2007

Best Overall: Food Processor – Grain Mill
Nutrimill Grain Mill ($290)
Rated 95 | 16+ reviews
The Nutrimill Grain Mill is a fixture of many health-conscious kitchens. With a huge 20-cup capacity, this specialty food processor turns any kind of grain into flour, quickly and (relatively) quietly. Despite its unique size and shape, reviewers say the Nutrimill is as easy to use "as turning a knob."
"As it is rather expensive, I did quite a lot of research before my purchase. This grain mill does not disappoint! It does a great job of producing quality flour with no dust flying … I am able to use this flour in place of any in a recipe–and no one knows it is ground at home!!" —dbsfordystonia, Reviewer since 2011
Looking for other good deals? You'll like this page.
More Top Food Processors
But don't stop there! The following 12 food processors also earn the Viewpoints Reviewers' Choice award, meeting the tough criteria for winners.  They are highly recommended:
Cuisinart Elite Collection 12-Cup Food Processor FP-12 ($199)
This processor has an adjustable slicing disc and the ability to reverse shred, allowing for more versatility. The SealTight system seals bowls and locks blades.  The device is Viewpoints-rated at 94 with 28+ reviews, with saying it is a "must-have for every kitchen."
Cuisinart Prep 9-Cup Food Processor DLC-2009 ($150)
This brushed stainless steel device will not only look beautiful in your kitchen, it is the perfect tool for all your food preparation needs. Its compact build is capable of any large task. Viewpoints-rated at 93 with 68+ reviews, reviews say this "wonderful" machine "makes life easier."
Rival 1.5-cup Mini Chopper ($10)
This mini chopper comes with a Stainless Steel S-blade to easily chop nuts, vegetables and more. The dishwasher-safe, pulse control system mini chopper is Viewpoints-rated at 93 with 26+ reviews with reviews saying it "makes life so much easier."
Cuisinart Pro Custom 11-Cup Food Processor DLC-8S ($169)
This food processor has an industrial quality motor and is made with a large feed tube and a unique chopping and kneading cover. Viewpoints-rated at 92 with 89+ reviews, reviews call this "workhorse" of a machine the "most useful kitchen appliance."
Cuisinart Pro Classic 7-Cup Food Processor DLC-10S ($100)
This device can make anything from stir-fry to peanut butter. Its large feed tube can take whole fruits and vegetables with stainless steel parts strong enough to chop anything. Viewpoints-rated at 92 with 74+ reviews, reviews say it is a "gift from the gods!"
Black & Decker Ergo 3-Cup Chopper EHC650 ($25)
This chopper can be used to quickly chop and mince salads, salsas and more and comes with a storage lid that allows you to store what you chopped, all with one device. Viewpoints-rated at 92 with 18+ reviews, reviews say this small chopper "does the job for a good price."
Cuisinart Prep 11 Plus 11-Cup Food Processor DLC-2011 ($179)
This has an alternate speed motor and 'Dough Control' technology to ensure proper dough consistency. It comes also with a 10-year warranty, the "longest warranty in the industry." Viewpoints-rated at 90 with 61+ reviews, reviews say it is a "perfect food processor."
Presto SaladShooter Electric Slicer/Shredder ($20)
This unique device uses interchangeable slicing and shredding cones to slice or shred directly into your bowl, eliminating the need for extra bowls. Viewpoints-rated at 89 with 39+ reviews, reviews say it is "the best kitchen gadget out there."
Cuisinart Mini-Prep Plus 4-Cup Food Processor DLC-4CHB ($50)
This processor is an affordable and attractive addition to your kitchen. It chops and grinds and comes with an exclusive auto-reversing smart power blade.  Reviewers are "completely in love" with this mini chopper, Viewpoints-rated at 88 with 59+ reviews.
Cuisinart Mini-Prep Processor DLC-1 ($30)
This mini prep processor is perfect for all your small food prep tasks. The affordable and space-saving device has 2-speeds and large 21-ounce capacity. Viewpoints-rated at 87 with 68+ reviews, the "quick, convenient" chopper is "perfect for small jobs."
Black & Decker 8-Cup Food Processor FP1600B ($50)
This 450-watt power food processor with 8-cup capacity is equipped with a stainless-steel blade, and a reversible-slicing disc ensures your ingredients are perfectly chopped. Viewpoints-rated at 87 with 33+ reviews, this food processor "packs a lot of power."
Black & Decker PowerPro 2-in-1 Food Processor FP2620 ($80)
This processor can do anything from grating, chopping, pureeing and more. 10-cup capacity work bowl with a 6-cup blending jar helps ensure you make the perfect meal fast and easy. Viewpoints-rated at 85 with 15+ reviews, reviews say "every cook should have one of these."
Editor's Note: Viewpoints Reviewers' Choice awards were given in October and November, 2013, and current product ratings may differ.